ENGINEERING
Repair Development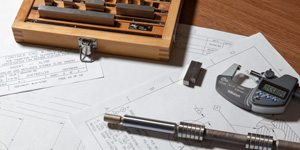 Fortner's Engineering Department is extremely important to each repair performed. The engineering team will utilize an extensive database including OEM maintenance manuals, service bulletins, manufacturing drawings and thousands of previous repairs, to design and create Component Processing Packages (CPP's). The CPP's include repair and test procedures, pertinent test fixture and/or component manufacturing drawings and other applicable documentation.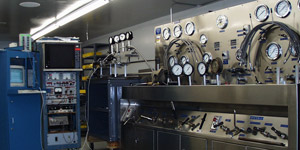 All of these repairs are developed in accordance with our FAA-approved Engineering Standards Manual (FES81). FES 81 was initially developed by Fortnerís engineering team in 1981 in support of our issuance of SFAR-36 authority. Our in-house DERís have continued to update FES to reflect current best practices and FAA Regulatory requirements. Repairs determined to be 'major' are accomplished utilizing the expertise of Fortner's engineering staff and authorized by Fortner's in-house FAA-DER. Prior to implementation, the engineering staff will test the component to ensure design performance of the Component Processing Package.

The FAA documented Fortnerís ability to utilize this manual for these approvals by including the following wording directly to our Operation Specification:

"Fortner Engineering Standards Manual, FES-81, FAA Approved 06-15-95 (as amended), may be used to establish repairs of aircraft hydraulic components not covered in the applicable manufacturerís component maintenance manual."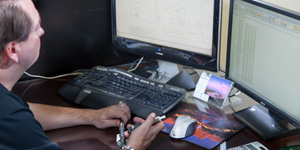 The Engineering Department maintains a strong interface with our Hydraulic Test Department and applies the latest technologies for a true state-of-the-art facility. Some of the current instrumentation to validate the airworthiness of all repaired components is pressure, velocity and position transducers, precision voltage measuring and waveform generation devices, strip chart and x-y recorders and computer based data acquisition and testing equipment.
The engineering department's strong working alliance with the other departments within our operation forges a team effort to assure the highest quality within the repair industry. Additionally, the engineering staff is dedicated to continuing education by staying abreast of current engineering and technical literature and attending technical conferences and symposiums.

DER Expertise
Fortner Engineering was effectively given authorization to "develop and use major repair data which is not specifically approved by the Administrator" with the issuance by the FAA of SFAR-36 in 1980. In simple terms, this allowed Fortner to develop and implement repairs that were not covered in the OEM's Component Maintenance Manuals (CMM's). This industry-recognized practice allowed Fortner to repair, rather than replace, many unserviceable major detail components that remain classified as non-repairable in the CMM.
As SFAR-36 was phased out, Fortner began the on-attrition conversion of these SFAR-36 approved repairs to Designated Engineering Representative (DER) approved repairs with the involvement and concurrence of the local FAA authority. Today all newly developed repair procedures are approved utilizing Fortner's on-staff DER and are incorporated upon receipt of customer approval.
To date, Fortner has over 1,200 DER / FES-81 approved repair procedures which have saved the airline industry an incalculable amount of time and money.